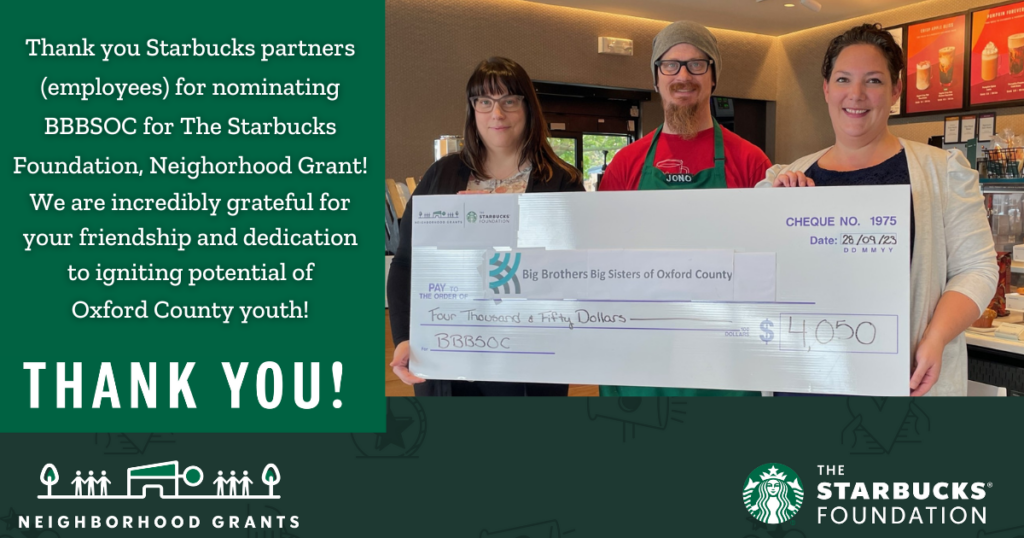 Big Brothers Big Sisters of Oxford County Awarded Grant from The Starbucks Foundation
The Neighbourhood Grant recognizes community impact the organization has in offering free mentoring programs for young people throughout Oxford County.
 As part of The Starbucks Foundation's Neighbourhood Grants program, Big Brothers Big Sisters of Oxford Count was selected to receive a $4,050 grant. This grant award is thanks to a nomination(s) from local Starbucks partner (employee) who recognized the work of the organization in Oxford County with [insert focus area and/or cause]. Through this unique program, The Starbucks Foundation invites Starbucks partners to nominate a local organization in their community. Since 2019, more than 10,000 grants have been awarded to local organizations, amounting to more than $15 million.
Big Brothers Big Sisters provides free mentoring programs for young people throughout Oxford County. At the core of all BBBS mentoring programs, we build resiliency by enabling life- changing mentoring relationships that ignite the power and potential of our mentees.  Youth who graduate from our programs leave with measurable outcomes in social emotional competence, mental health and wellbeing, and educational engagement and employment readiness. As an agency that does not receive ongoing government funding, we rely on the support of donors, sponsors, and grants like The Starbucks Foundation Neighbourhood Grant.
"It is proven that the presence of supportive adults in childhood contributes to building healthy brain architecture, a process which sets children up for a lifetime of resilience, positive social interaction, and academic/career success," said BBBSOC Executive Director, Kristen Ralph. "Many of the vulnerabilities that put children and youth at risk can be reduced/avoided with the support of a mentor, giving children the confidence to achieve their full potential in their lives and in how they influence the lives of others.  Support like this allows us to continue to offer these programs to young people who need it most."
The Starbucks Foundation's Neighborhood Grants program supports grassroots, community-led non-profit organizations through catalytic investments in the form of grants. Neighbourhood Grants also help build sustained local impact and inspire increased partner (employee) engagement with non-profit organizations that work in their communities.
"Our partners (employees) know their communities best, and have shared great insights about the organizations helping to uplift others in their neighborhoods, from supporting youth and families to fighting hunger and promoting environmental stewardship," said Alicia Vermaele, executive director of The Starbucks Foundation. "Through our latest round of Neighbourhood Grants, we're proud to support local organizations nominated by Starbucks partners who make our communities stronger."
"The reason that we chose Big Brothers and Big Sisters of Oxford County is that we have a desire to support the youth as they are the future of this community," said Starbucks Woodstock Store Manager, Jonathen Kimpton.  "We want to make sure that everyone feels welcome in our stores here in Woodstock. This is why we have created a strong community presence to help as many individuals as possible within our region."
Learn more about the Neighborhood Grants program at Starbucks Stories.
 The Starbucks Foundation
The Starbucks Foundation strengthens humanity by transforming lives across the world, with a focus on enabling community resiliency and prosperity and uplifting communities affected by disaster. Established in 1997, The Starbucks Foundation is a Section 501(c)(3) charitable organization under U.S. law. Learn more at Starbucks Stories.
In the photo from left to right are Kristen Ralph (BBBSOC Executive Director), Jonathen Kimpton (Starbucks Woodstock Store Manager) and Nicole Killaire (BBBSOC Fund Development Manager).