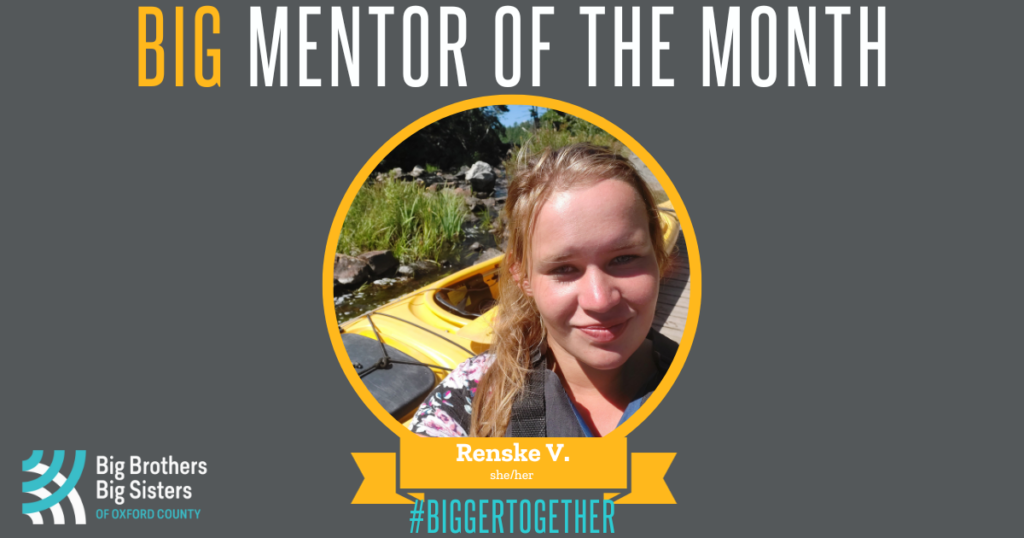 Congrats to Renske V. Big Mentor of the Month for September (Big Brothers Big Sisters Month)!
I started out volunteering with Big Brothers and Big Sisters of Woodstock to be able to give back to the community and to help enhance my chosen career. However, over the past two years I've really learned to embrace and cherish all the moments I have been given with all of my mentees. Watching them become comfortable, open up, and grow over a span of a few weeks is incredible. I have loved every moment and learned from every interaction I've had with my mentees and co-mentors; because they were brave enough and open to trying new things, I have challenged myself to take up the martial art of jiu-jitsu as well as a few competitions.
One of my most favourite things about volunteering with Big Brothers and Big Sisters of Oxford County is being able to watch my mentees during the few weeks that I have with them; and just witnessing them take each step and each decision with more confidence than the last step. I hope to continue volunteering for Big Brothers and Big Sisters with hopes of continuing to inspire the younger generation in every way that I can as they have done the same for me.
Renske volunteers through our S.O.A.R. program (Social Opportunities Activities Relationships) which is a group program for our waitlist youth to engage in while they are waiting for a 1:1 match.  Groups are created for different age groups – youth 12 and under, or youth 13+ and meet once a week for a couple of hours, for 8-12 weeks, participating in pre-planned activities in the community (i.e. horseback riding, karate, yoga, dance, indoor golf, cooking etc.).
Thank you Renske for igniting the potential in youth throughout Oxford County!
To learn more about our programs and how you can get involved, check out our Programs Page to see what might best suit you, and if your ready to start your application, go to our Volunteer Page to get started today!