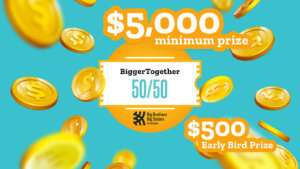 YOU COULD WIN BIG! WHILE SUPPPORTING BBBSO
For thousands of vulnerable young people, COVID-19 has severed them from the few connections they have, the people they look up to and the support they need. Without it, their mental and physical health is at risk and they are in danger of being left behind.  Your support of Big Brothers Big Sisters will help us reconnect a child to the strong mentoring relationship they need to get through this.
We are thrilled to announce our province-wide inaugural BBBSO BiggerTogether 50/50 Raffle!
The BBBS Oxford County of Big Brothers and Big Sisters of Ontario is excited to announce a brand new way for you to support our mission across the province of Ontario and WIN BIG!  You can buy tickets for the BBBSO BiggerTogether 5050 Raffle for your chance to win one half of the jackpot. This program is being supported by over 35 participating BBBS Ontario agencies across the province and your support will go a long way to help ignite the power and potential of young people not only in Oxford County but across our province!
The raffle has a $5,000 guaranteed minimum take home prize, with a new raffle and new pot to be won each time!  The next jackpot winner will be announced Saturday, May 15th!!!
TICKETS ARE:
10 for $10
40 for $20
200 for $40
*You must be 18 years of age to enter and you must be located within the province of Ontario to buy.*
#BiggerTogether5050 #WinBig5050 #IgnitePotential5050
Congratulations Mary Ann S. from Chatham-Kent who won $55,660 on Thursday April 15th!
Congratulations to Csilla B. of Guelph who won $53,330 on Monday March 15th!
Congratulations to Colleen S. of St Thomas who won $53,785 on Friday January 15th!
Congratulations to Brittany G. of Lindsay who won $77,195 on Friday December 4th!
Congratulations to our first winner, Jaime N. of Lindsay who won $178,790 on Friday October 16th!