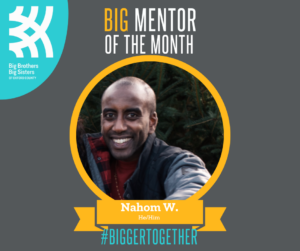 Congrats to our Big Mentor of the Month, Nahom W.!
Congratulations to Nahom W., our Big Mentor of the Month for May! Nahom began his mentoring journey as a Big Brother in our Community Based 1:1 program almost 6 years ago.
He is the youngest in a family of three brothers and always wanted to have a little brother of his own. Volunteering with BBBSOC gave him the opportunity to mentor a youth and finally be a big brother himself! Their match was inspiring, as Nahom recalled his little brother attempting to get his driver's licence, "after his first failed attempt at the written driver's test, he was ready to give up on that day and come back another day, but we decided against that idea. We stayed at that drive test centre until he got it done."
Nahom also reminisced over his mentee graduating high school and how he was so happy to witness the pride he had for himself when talking about graduation.  
Nahom and his little brother remain great friends, despite him graduating from the program, which happens when a youth turns 18. Since then, Nahom has joined our Site-Based Group Program and helps to facilitate Game On at local schools and continues to ignite power and potential for youth in Oxford County!
Thank you, Nahom!