After the cameras were off and the lights turned down on the second edition of Big Night In, Oxford's Got Talent, Big Brothers Big Sisters of Oxford County are thrilled to announce that this year's event brought in close to $80,000!
 The live stream event aired Saturday October 23rd with 21 acts in total participating, hosted by comedian Greg Morton, with guest judges Laurie Schultz, Dan Henry and Mike Crabbe.  This year's winners for Judge's Picks were a father/daughter duo The Lydia Leigh Project, solo act Rob Cromwell and 14-year-old "Unheard Drummer" – Tycen Medeiros.  The People's Choice winners were Rob Cromwell, singer/songwriter Cindy McMaster and a tie for third place between singers Sylvia Dennis and Lynn Cayen.
We are incredibly grateful for all of our sponsors; Presenting Sponsor Toyota Motor Manufacturing Canada; Major Sponsors E&E McLaughlin, Hunt Home, Hunt Family and Jack & Jean Wettlaufer and family; and our Media Sponsor Heart FM.  To all of our donors, those who supported the Big Night In Online Auction through donations and purchasing items, and those who purchased WestJet Gift Of Flight raffle tickets – thank you for your generosity and friendship.  And of course to our talent acts who brought us an amazing show this year – it was a tough decision for the judge's and there were a lot of votes for People's Choice (it was a close race!).  We were blown away at the level of talent we received again this year, and appreciate that you shared your talents with us!  We truly are Bigger Together!
The funds raised through events like Big Night In, Oxford's Got Talent goes directly to supporting our mentoring programs and services, which are offered at no-cost to youth and families in Oxford County. The global pandemic has amplified the critical need for our mentoring programs, increasing the necessity to stay connected and to continue reaching children and families who are particularly vulnerable. We are able to build, maintain and support mentee and mentor relationships in a variety of ways, such as in schools, online, or in the community. Regardless of the method of match connections, the agency is committed to achieving measurable outcomes.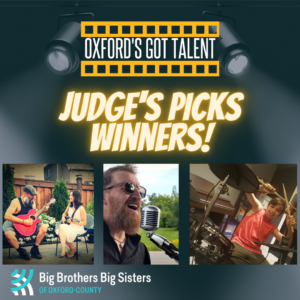 1st Place: The Lydia Leigh Project   2nd Place: Rob Cromwell   3rd Place: Unheard Drummer (Tycen Medeiros)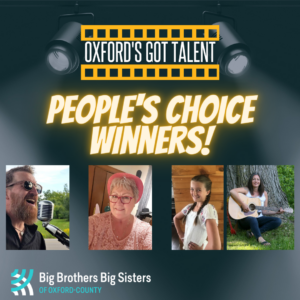 1st Place: Rob Cromwell   2nd Place: Cindy McMaster   3rd Place (tie): Sylvia Dennis & Lynn Cayen