Celebrating our success in 2018
Last night, past and current boards members, staff and friends of Big Brothers Big Sisters in Oxford County(BBBS Oxford) gathered at Willow Lake Campground and RV Park in Woodstock for our Annual General Meeting (AGM). It was the final AGM as individual agencies for both Woodstock & District and Ingersoll & Tillsonburg, as the new countywide agency leads us into the future of mentoring in Oxford County.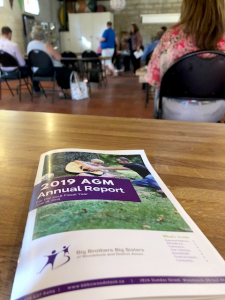 "We just closed one big chapter, but are opening one big new one," said Ingersoll & District's outgoing President Kim DeKlein, ending the 44th annual general meeting.
It was a record-setting year for Woodstock's final year as its own agency, having almost reached a total of 600 children and youth served in 2018.
BBBS Oxford President Drew Fallowfield attributed this to the introduction of a part-time mentoring coordinator dedicated to developing more opportunities in communities outside of Woodstock,  specifically in Norwich Township. This focused effort was met with great success, seeing an increase of 82% in young people mentored in Norwich Township.
It was also an incredible year for events in 2018 with a 43% increase in funds raised in support of our programs for children and youth in our community. These achievements are just the beginning of another successful year of making a positive difference in the lives of children and youth in our community through our mentoring programs.
Read more highlights in our 2019 AGM Report for the 2018 fiscal year and see our financial statements.
Outgoing board members: Imran Meghani, Cheri Palmer, Mary Bell, Mathew Williams, Stephanie McGaffey and Bradley Winlaw. The incumbent Board of Directors for BBBS Oxford: Drew Fallowfield, Jason Routley, Kim DeKlein, Greg Bruce, Barb Clendenning, Jennifer Schafrick, Jeff Workman, Joe Todd, Mike Henoeffer, Patty Wettlaufer, Karen Masson and Melanie Rodrigues.