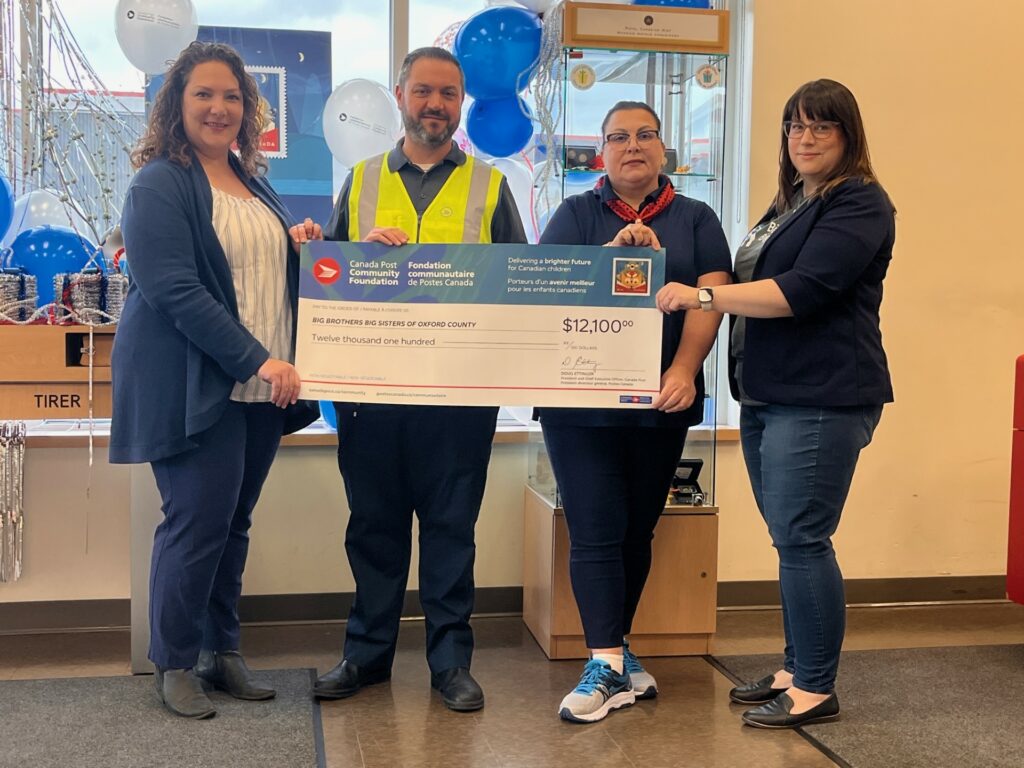 Big Brothers Big Sisters of Oxford County Receive Canada Post Community Foundation Funding
Big Brothers Big Sisters of Oxford County (BBBSOC) were thrilled to receive $12,100 through the Canada Post Community Foundation funding. The funding, directed to 84 organizations in 2023, support initiatives that strive to enhance the lives of children and young people throughout Canada.
In the process of applying, BBBSOC requested the funding to support the PRISM Program (Pride Respect Identity Safety Mentoring). The PRISM program, designed to connect 2SLGBTQIA+ young people with each other and adults in the community, fosters an authentic bond and build a sense of community. The funding received through the foundation will directly support the program delivery and activity supplies.
The PRISM program provides both one-to-one support as well as group programs. PRISM's one-to-one matches will provide safe, screened and trained adult mentors to young people, with both members having lived experience within the 2SLGBTQIA+ community.
"These connections will happen weekly between the two parties for a minimum of one year, and supported and monitored by a professional caseworker," says BBBSOC Executive Director, Kristen Ralph.
"The match will build a developmental relationship that expresses care, challenges growth, provides support, shares power, and expands possibilities.  The group programs within PRISM supports young people to create connections and relationships with each other.  Many young people who have this lived experience come from different schools, towns, and neighbourhoods, making it difficult for them to connect with people who are going through similar experience. PRISM brings youth together, not only to meet, but to take part in various community activities, they may not otherwise have the opportunity to experience."
BBBSOC also offer drop in conversations for parents/guardians of young people in this program, so they can build their own community and offer each other support and they navigate some of the unique challenges that they face.
About the Canada Post Community Foundation
Established in 2012, the Foundation is a registered charity that operates at arm's length from Canada Post. Its mission is to have a positive impact on the lives of children and youth (up to age 21) by building the capacity of local charities, initiatives and school programs that support them. Through its grassroots, community-based approach, the Foundation plays a critical role in helping Canada Post achieve its purpose, A Stronger Canada – Delivered, (taken from the Canada Post website).