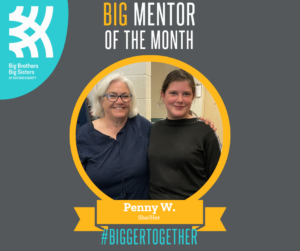 Congrats to our BIG Mentor of the Month, Penny W.!
Penny has been mentoring with BBBSOC for 9 years through our In-School Mentoring Program. In that time, she has mentored 3 youths in our program. Her most recent match has had some longevity, as the two have been matched since the mentee was in grade 2;  she will graduate from grade 8 this year!  
They've enjoyed lots of favourite moments together over the years, including decorating cupcakes or cookies for her mentee's birthday, doing crafts, playing Connect Four and simply talking!
One of Penny's favourite moments with her mentee, was hugging each other post-COVID. "We talk a lot. I listen to her always without judgement, trying to teach her right from wrong and how to be happy in her own skin, while trying to make some sense out of today's world."
Congratulations, Penny! You are igniting potential with your mentee!
Thinking about becoming a BIG? Send in your application: https://oxford.bigbrothersbigsisters.ca/volunteer/