BIG Mentor of the Month – January 2023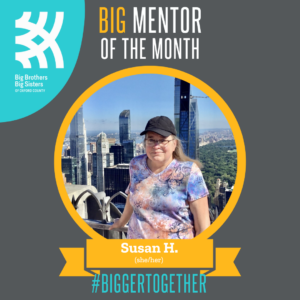 Congratulations to the BIG Mentor of the Month in 2023! We are so honoured to recognize Susan H for the month of January. Susan has been a BIG part of our literacy program since she joined us in May, 2019. She meets with her mentee weekly at the library and works on academics, such as math skills, researching about African animals, as well as learning about instruments in an orchestra. Susan has even started including French vocabulary. This month Susan is going to introduce her mentee to exploring the solar system.  
When asked what has inspired her to become a mentor, Susan said, "Before my retirement, as an Early Childhood Educator, who greatly valued literacy, and who always tried to make learning fun. Nothing makes me happier than reading to, or with, a child, so the BBBS literacy program was a great match to my passions and skills". Susan's passion shines through with her mentee and has had a positive impact on them. When reflecting on one of her favourite moments as a mentor, Susan said, "I loved to see this big improvement in his attitude towards reading" and recalled the time when she realized her mentee, who had been a reluctant reader, was now able to read multi-syllable words.  
Thank you, Susan, for all that you do as a mentor with BBBS! We are extremely grateful going into the New Year for you and all of the other mentors that make such BIG impacts in their mentees' lives.  
Thinking about becoming a BIG? Send in your application: https://oxford.bigbrothersbigsisters.ca/volunteer/