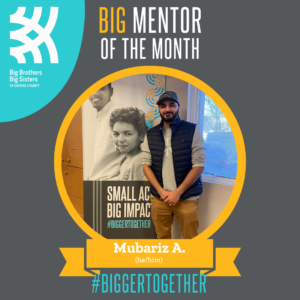 Congratulations to our BIG Mentor of the Month for February!
We are thrilled to be recognizing Mubariz, who has been a BIG part of our group programming, especially Game ON!, for the past five years. In his time mentoring with BBBS, Mubariz has significantly impacted those he has mentored but has also found himself inspired by the youth he has supported.
Although Mubariz has many moments to cherish from his time with BBBSOC, he recalls one youth that really stood out to him. He can remember the start of a 7–8-week Game ON! program, where the mentee rarely participated, kept to themselves, and sometimes skipped the program. Initially, Mubariz thought he had let his mentee down, the program ended, and school was let out for summer. He later learned that the mentee had become a mentor themselves, volunteering over the summer for Tim Hortons camp!
This igniting of potential proves how impactful mentoring youth can be! 🙌
Thank you, Mubariz, for all you do as a mentor with BBBS! We are incredibly grateful for you and all of the other mentors that make such BIG impacts in their mentees' lives.
Thinking about becoming a BIG? Send in your application: https://oxford.bigbrothersbigsisters.ca/volunteer/